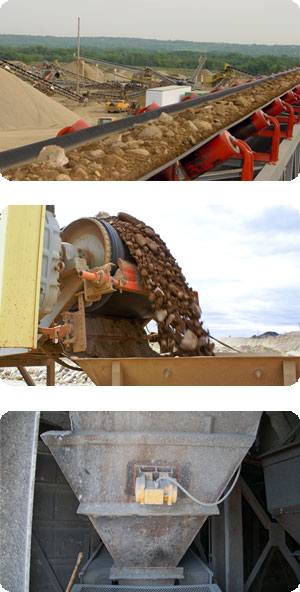 Whether it's a sand and gravel pit, a crushed stone quarry, a ready-mix concrete plant or a concrete recycling yard, Martin improves aggregate handling.
With Martin's help, producers can focus on production, without the outages that cripple efficiency and profitability.
For aggregate plants, down time during production season means missed profits. By helping plants run, with lean maintenance budgets and minimal personnel, Martin helps aggregate operations "turn up the output!"
We have the expertise to make your aggregate operations as efficient and productive as possible.

Aggregate plants are always looking for ways to enhance site safety, reduce costs, improve profitability and boost efficiency. Safety is a key priority for our customers. It's a priority to us too. We integrate our products with safety features to keep people safe when using and servicing them. Safety has been designed into our products and solutions since 1944.
Transfer Point Products

Martin® Transfer Point Products and Services keep conveyors on-line, with reduced maintenance requirements and improved efficiency by improving belt conveyors in permanent or portable plants. Our EVO® transfer point products are track-mounted to simplify installation and maintenance, improving the safety of workers.
Primary Belt Cleaners

Martin® primary belt cleaners remove carryback.
Dust Management
Martin® Dust Management products control dust from material handling systems to improve relations with neighbors and regulatory agencies.
Flow Aid Products
Martin® Flow Aids make sure material moves from bins and hoppers and provide the force to move material through screens, chutes and feeders.
MartinPLUS® Process Improvement Services analyze your material handling system, and looks for opportunities to improve your operation.