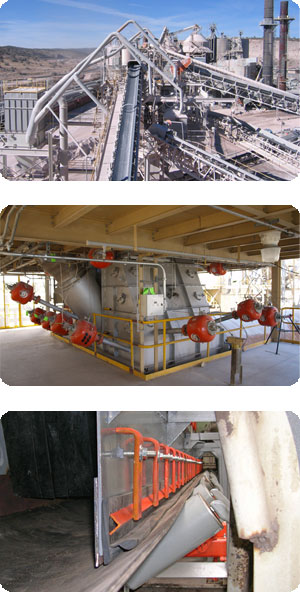 To keep cement production on stream, Martin prevents buildups and blockages while reducing dust, spillage and carryback. Martin® products help improve the flow of materials and the handling of limestone, gypsum and clinker.
Enhancing site safety, reducing costs, improving profitability and boosting efficiency is important to cement producers. We incorporate safety and productivity into our products.

Flow Aid Products
Martin® Flow Aids knock down buildups in preheater towers and dislodge "snowmen" in the clinker cooler.
Railcar Unloading Products

In cement terminal operations, Martin can improve the loading and unloading of bottom-dump hopper cars, with our railcar unloading solutions.
Transfer Point Products
Transfer Point products such as Impact Cradles, Support Cradles and Skirting reduce spillage and dust that can come from conveying raw materials, clinker and finished cement. Our EVO® transfer point products are track-mounted to simplify installation and maintenance, improving worker safety and efficiency.
Primary Belt Cleaners
Martin® primary belt cleaners remove carryback.
Secondary Belt Cleaners
Our cartridge-mount secondary belt cleaners offer a safe and easy removal procedure. Their compact secondary design allows installation in close quarters and the narrow profile resists material buildup.
Martin® Silo Cleaning Service safely and efficiently removes buildups from your storage vessels, regains live storage capacity, recovers lost material and reduces the need for confined space entry.

MartinPLUS® Process Improvement can assess your bulk material handling system, and offer the systems and services to reduce fugitive material and improve availability.