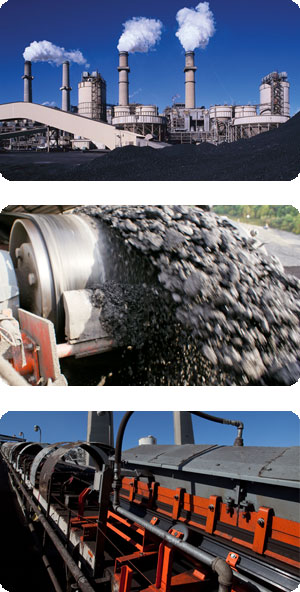 For clean coal handling, turn to Martin. Eastern coal, Illinois coal, PRB or blended; whatever the source, Martin can help.
From the barge unloader or railcar dump through the coal yard to the bunkers that feed the boiler, Martin® products and services keep coal handling clean, safe and productive. We serve every area in the coal-fired power generation process.

Power plants are always looking for ways to enhance site safety, reduce costs, improve profitability and boost efficiency. Safety is important to our customers, as well as to Martin, which is why we have designed safety into our products and solutions since 1944. Our goal is to keep people safe when using or servicing our products.
Transfer Point Products
Transfer Point products like Impact Cradles, Support Cradles and Skirting reduce spillage and dust. Our EVO® transfer point products are track-mounted to simplify installation and maintenance, enhancing safety for those in charge of service/maintenance.

Primary Belt Cleaners

Martin® primary belt cleaners remove carryback from conveyors.
Secondary Belt Cleaners

Our cartridge-mount secondary cleaners offer a safe and easy removal procedure. Their compact secondary design allows installation in close quarters and the narrow profile resists material buildup.
Flow Aid Products
Martin® Flow Aids eliminate hang-ups and boost material flow from storage vessels and through chutes and feeders.
Martin's Silo Cleaning Service safely and efficiently removes buildups from your storage vessels, improving live storage capacity and reducing the risk of hot spots.
MartinPLUS® Process Improvement can assess your material handling systems and prescribe the solutions to reduce fugitive material and improve productivity.