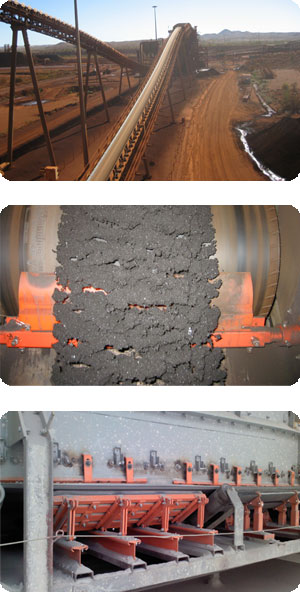 Martin offers the products and services needed for all surface and underground mining.
When you must move tons of ore to produce only pounds or even ounces of refined material, the efficiency of the material handling system is key. Martin® products and services improve the handling of raw, crushed or processed ore through the mine and mill.
From the gold mines in Peru to lignite mines in Europe, or the iron ore mines in Canada to the underground coal mines in Norway, we serve every mining industry around the world. We have the expertise to make your mining operations as efficient and productive as possible.
Miners are always looking for ways to enhance site safety, reduce costs, improve profitability and boost efficiency. Safety is a priority for our customers, and it's a priority for us too. We integrate safety features into our products to keep people safe when using or servicing them. Safety has been designed into our products and solutions since 1944.
Transfer Point Products

Martin® transfer point products improve performance by stabilizing the belt line and preventing spillage, while keeping conveyor belts aligned. Our EVO® transfer point products are track-mounted to simplify installation and maintenance.
EVO® Combination Cradle

- Installed under a belt conveyor loading zone, the EVO® Combination Cradle absorbs the force of falling material to prevent damage to the belt and structure. The impact cradles stabilize the belt line to prevent material escape.


EVO® Slider Cradle

- By properly supporting the belt, EVO® Slider Cradles stabilize the belt line, reduce spillage and the risk of damage from material entrapment.
EVO® Return Roller - The EVO®

Return Roller is a pivoting

, track-mounted return idler that allows for safe, quick and simple one-sided service and replacement.

Tracker

™

- The Martin

®

Tracker™ provides continuous, precise adjustment of wandering conveyor belts. The Tracker™ works where other belt training devices fail to reduce edge damage, prevent spillage and extend belt life.
Primary Belt Cleaners

Martin primary belt cleaners remove carryback from conveyors carrying run-of-mine ore or finished concentrate.
Secondary Belt Cleaners
Our cartridge-mount secondary cleaners offer a safe and easy removal procedure. Their compact secondary design allows installation in close quarters and the narrow profile resists material buildup.
Flow Aid Products

Martin Flow Aids keep material moving and boost the flow from storage vessels and through screens, feeders and chutes.
Dust Control
Martin can also help you control airborne dust to improve regulatory compliance, working conditions and community relations.