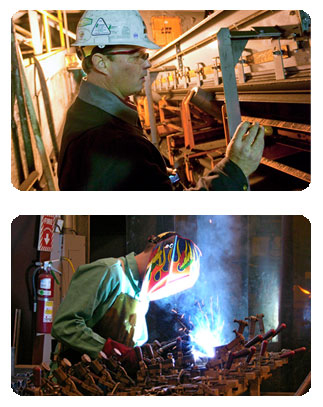 Since its founding, Martin Engineering has remained steadfast in its mission to provide safe and innovative problem solvers in bulk material handling. Intrinsic to Martin's values is our quest to make the industrial-material handling environment cleaner, safer and more productive. For 70 years, we have worked to improve our global environment by controlling dust and spillage in bulk material handling, "going green" long before it became popular. The control of dust and spillage is not only a science but also an art; Martin Engineering has mastered both.
Based on our experience and expertise, we provide extensive educational programs that include interactive online training, workshops, seminars, certifications programs, university-accredited courses and technical presentations at association conferences. We work closely with participating universities to bring bulk-materials handling industry the most current research, the most reliable technical data and the best practices. Martin will continue to help industries handling bulk materials improve efficiency, productivity and safety.
Conveyors are one of the best productivity-enhancing tools available, but conveyor injuries cost employers millions of dollars annually. The vast majority of these injuries are preventable with the right training, preparation and safety precautions. At Martin, we have specifically developed a wide variety of safety products and accessories designed to protect workers from hazards and risks, we have expanded our training and service products to include safety precautions and best practice procedures to ensure the safety of employees running conveyors.
Our dedication to safety is not only included in the development of our products and services, but also in the safety of our employees. We are dedicated to creating a workplace that is safe, fair and enriching. Safety procedures and programs are constantly monitored and improved to help ensure our employees work safely.