Martin Offers Wide Variety of Specialty Belt Cleaners
Published: April 22nd 2016
Specialized Conveyor Belt Cleaners Designed for Unique Applications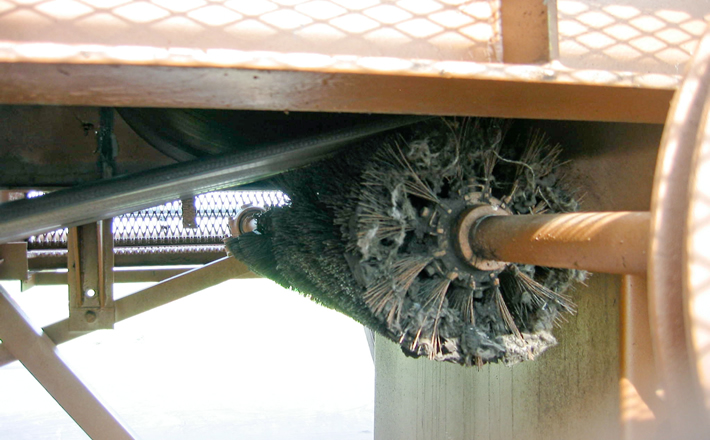 [Neponset, IL] – A worldwide innovator of conveyor belt accessories offers a family of specialty belt cleaners designed to address challenging applications, from viscous food manufacturing to hot slag. Developed in response to customer input, Martin Engineering conducted extensive research at its Center for Innovation (CFI) facility in Illinois to find conveyor solutions to carryback, belt health, spillage and pulley/idler health problems faced by numerous industries. The result is a line of cleaning alternatives to standard blades that promote longer belt life with less downtime, leading to a lower cost of operation.
"Conveyor belts react to various substances in vastly different and sometimes unpredictable ways," said Dan Marshall, Product Engineer at Martin Engineering. "Inadequate cleaning of niche materials can lead to a host of issues over time. Applying the proper cleaner to the job can prevent expensive equipment failures and downtime."
Specialty Cleaners for Efficiency and Safety
Whether in a primary or secondary position, all of the specialty cleaners are mounted on a steel main frame attached to the conveyor, which holds the cleaning unit firmly in place. Located at the lower front section of the head pulley, under the discharge flow, primary cleaners clear the majority of adhered material. Secondary cleaners reside a few feet behind to assure thorough residual removal. Carryback – material stuck to the belt and cycled back through the system – can foul idlers, pulleys and skirt boards, leading to serious tracking issues that fray belt edges, weaken the splice and potentially cause accidents. Moreover, carryback material can pile on floors and pool in work paths, creating a hazardous workplace and requiring manpower for cleanup. According to Marshall, "There is no one-size-fits-all cleaner. Matching the proper design to the specific belt and material traits is the best way to protect the system and personnel."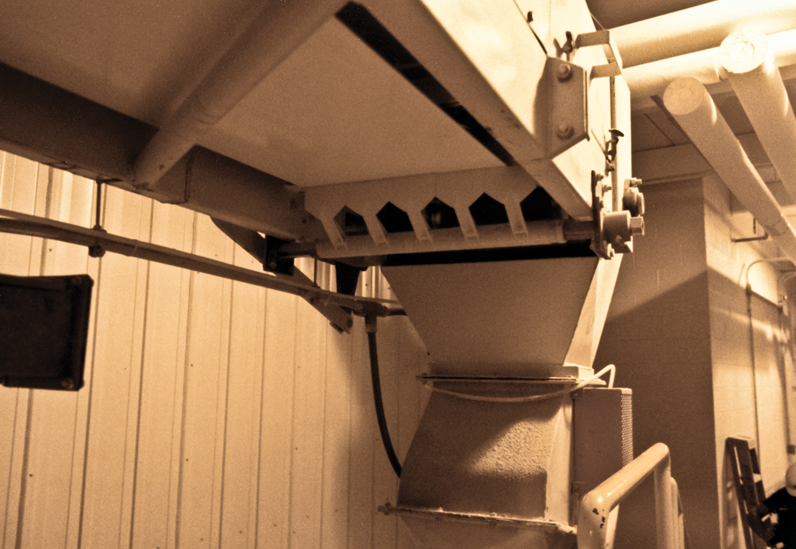 Used widely across the food processing industry for light to medium duty applications, the Martin® Food Grade Cleaner is engineered to comply with conveyor specifications and belt sanitation requirements of the CFIA, FDA and USDA. Constructed of rigid low-density polyethylene
or nylon blades and engineered with the company's patented Constant Angle Radial Pressure (CARP) design to maintain the most efficient cleaning angle throughout its service life, the blades can be mounted with Air Tensioner, Spring Tensioner or Hub Mount Tensioner for a consistently tight seal on the belt. This highly specific cleaner can be mounted in the primary or secondary position on belts from 4 to 48 inches wide (102 mm to 1219 mm) and is able to withstand temperatures of -40° to 380°F (-40° to 193°C).
The only motorized cleaner in the group, Martin® Brush Cleaners are specially designed secondary cleaners for the removal of fines and residue from ribbed, flighted, grooved or chevron conveyor belts. Available in two strong polypropylene bristle configurations, the straight line Strip Brush and the swirl pattern Spiral Brush are spun rapidly against the belt path by an energy efficient 230/460 Volt, 3 Phase, 60 Hertz motor.
Both systems are designed for temperatures of -20° to 180°F (-29° to 82°C), with the Strip Brush accommodating belt widths of 18-60 inches (450-1400 mm) using a 1 HP motor and the Spiral Brush cleaning belts 18-72 inches (450-1800 mm) with a 2 HP motor. The durable angle iron and stainless steel components provide long service in tough conditions against sticky materials or stringy fibers. Martin Engineering also supplies a brush cleaner for the European market, with bristle patterns for high and low moisture content materials.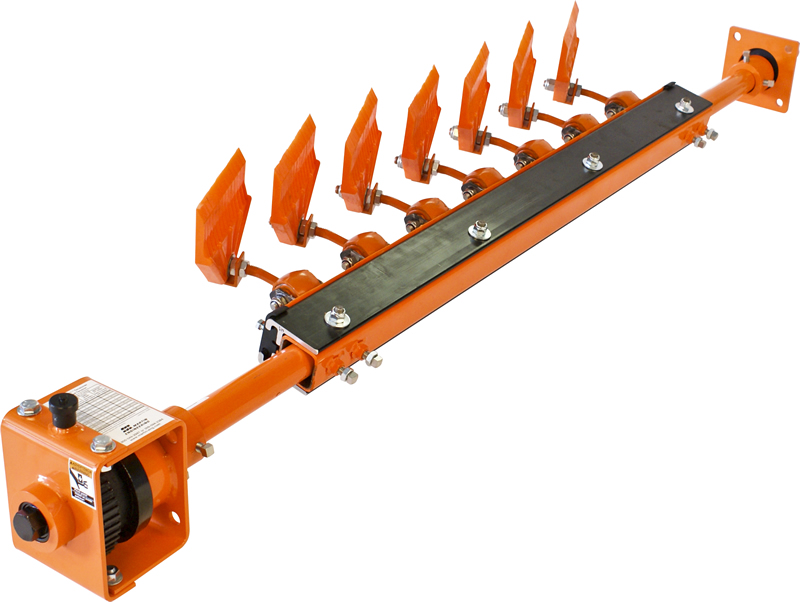 For operators who choose not to use electricity to control carryback and buildup from chevron ribbed or cleated conveyor belts, the secondary Martin® Chevron Cleaner removes material using shock-absorbing torsion arms with elastomer blades composed of fourteen ½ in. (12 mm) wide "fingers."
These fingers allow the cleaner to accommodate the very specific geometry of chevrons. Able to handle belt speeds up to 500 fpm (2.5 m/sec) and belt widths of 18 to 96 in. (400 to 2400 mm), the telescoping arms eliminate the need to cut the mainframe during installation. High temperature or chemical resistant blades are also available.
The secondary Martin® H2O Cleaner is a system that incorporates a water spray for extra cleaning and dust suppression, and then uses a soft urethane blade to squeegee moisture from the grooves and indentations in the belt cover. With a blade length of 18 to 84 inches (400 to 2200 mm), the unit has the option to be fitted with 2 to 11 spray nozzles, delivering between 5 and 60 psi (.34 and 4.14 BAR) of pressure. The blades are engineered to handle belt speeds of up to 750 fpm (3.8 m/sec) and temperatures of -30° to 180° F (-34° to 82.2° C), and can be specially treated to address various liquid materials from acidic to sticky. The blades feature a no-tool quick release system for easy replacement by a single worker.
For niche operators working with super-heated materials such as slag, hot clinker, asphalt and brick, the secondary Martin® High Temperature Cleaner is made to withstand some of the most punishing conveyed materials. The stainless steel system can withstand temperatures of up to 600°F (315°C) – approximately the melting point of lead – using overlapping tungsten or stainless steel blades, which are mounted on coil spring arms that wrap around a steel frame. Equipped with a Martin® Twist Tensioner to provide a tight fit for effective cleaning, this specialized system allows operators to avoid thermal adherence of hot material to the belt.
Though the systems are specialized, they can work in tandem with other standard belt cleaners or with each other. "We take every detail into account and do extensive testing and monitoring to assure quality and proper functionality," Marshall pointed out. "Part of being an expert in bulk handling is finding solutions and anticipating any problems that may arise, even from the solution itself, so that safety and operations are both enhanced."
Call Us Today
800-544-2947