Upgrades Make OPPD a Leader in PRB Safety
Published: June 24th 2013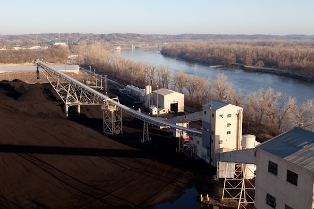 Material handling upgrades at the Omaha Public Power District (OPPD) have been so successful that the PRB Coal Users' Group recently announced OPPD as recipient of the Plant of the Year Award. The PRB Coal Users Group recognizes a power plant each year for innovation and implementation of "best practices and best available technologies."
OPPD is one of the largest publicly owned electric utilities in the United States, serving more than 350,000 customers in 13 southeast Nebraska counties.
In the 1980s, as part of its commitment to best environmental stewardship practices, OPPD was converted to burn cleaner, lower sulfur coal from Wyoming's Powder River Basin (PRB). Constructed over 50 years ago, the five-unit plant was initially designed to burn Midwestern produced high sulfur coal.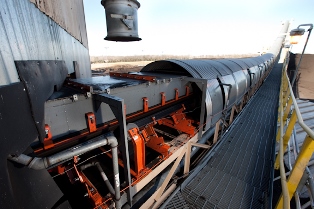 Though now cleaner, during the initial conversion process, the plant was not fully optimized to address the particular dust mitigation techniques necessary when handling PRB coal. Adjusting material handling flow to the characteristics of PRB coal and addressing its unique safety hazards led OPPD to seek Martin Engineering's expertise.
OPPD was using a conventional, dated materials handling system. Martin, who already had a long service history with OPPD, was asked to conduct a safety and materials handling audit specifically addressing fugitive dust and overall coal dust control.
The project was completed over four phases and included transfer point upgrades to twelve belts throughout the plant and installation of insertable air cleaners to 10 load zones. Belt support cradles were installed under the drop chutes to absorb impact and stabilize the belt lines and prevent spillage. Martin® Air Cleaners were installed on the load zones to further reduce the escape of fugitive material. Additionally, Martin installed a Dust Fighter™ Foam system to further reduce fugitive dust.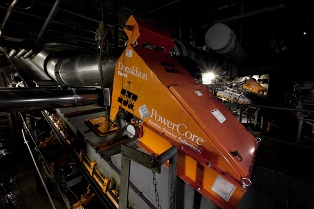 Overall, the biggest dust control improvement has been the rebuilding of the coal transfer points to contain that dust. "We used to have lots of dust and spillage. But now that almost all of the transfer points have been rebuilt, it's a night and day difference," said Kirk Estee, P.E. Material Handling Supervisor at OPPD.
To help ensure that all the transfer points are working properly, Martin comes to the plant monthly, walks through the belt lines and transfer points. Martin also keeps a parts inventory on site that they withdraw from as needed. If a new seal, belt cleaner or other item is needed, it is close at hand.
About The Martin® Air Cleaner
Martin® compact dust collector installs above conveyor transfer to capture airborne dust, collecting particles in foam filter. Reverse pulse returns dust to main cargo stream.
Features and Benefits:
Compact filters work better and last longer while consuming less energy than conventional filter bags
Small size of improved filters allows effective collection with less air movement and smaller fan, reducing energy costs
Small unit size allows use of Air Cleaner in areas where space limitations complicates installation of other collection systems
Reverse pulse cleans filters; replacement of compact filter elements is a one-hand, no-tool procedure performed from the clean side of the collector
Eliminates many of the problems with central "baghouse" collection systems, including long ducting runs, large enclosures, high power consumption and difficult maintenance
Standard model is suitable for use with non-explosive materials in non-hazardous locations
Optional model available for use with explosive materials in hazardous locations
Can be used as stand-alone dust collector systems or to supplement existing central dust collection systems.
Call Us Today
800-544-2947