Martin® Announces New Generation of Conveyor Guards
Published: June 14th 2012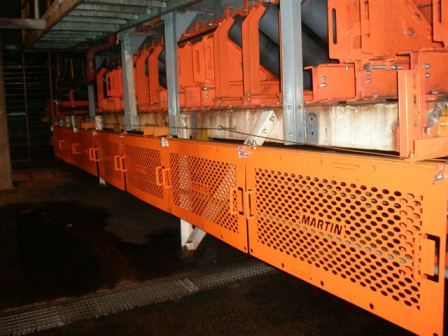 [Neponset, IL] – An industry leader in delivering safer, more productive bulk materials handling has announced a new generation of conveyor guards. Martin® Conveyor Guards enable workers to do their jobs with reduced risk and greater efficiency, while helping to ensure plant compliance with safety standards and regulations. Providing a simple, flexible and effective solution to conveyor guarding, the new designs help keep personnel safe by restricting access to moving parts and pinch points.

Wedge clamps allow the guarding panels to be removed and reinstalled quickly and easily, so systems can be easily expanded or relocated as needed. Martin® Conveyor Guards are self-supporting and feature a rugged modular design that installs on supplied angle iron structure, eliminating the need to attach to conveyor equipment. Integrated handles reduce the number of parts and tools required.

The new conveyor guards conform to OSHA 29 CFR 1910.217 when installed with a minimum of 5.50 inches of clearance between the guard opening and hazard. Guards are available in several sizes and can be used in a variety of combinations to fit almost any conveyor design. Martin® Conveyor Guards are an economical way to improve safety awareness and reduce worker injuries. The guards are available in two colors; safety yellow or Martin® Orange.


Call Us Today
800-544-2947