Martin Releases New Edition of Foundations™ Book
Published: June 14th 2012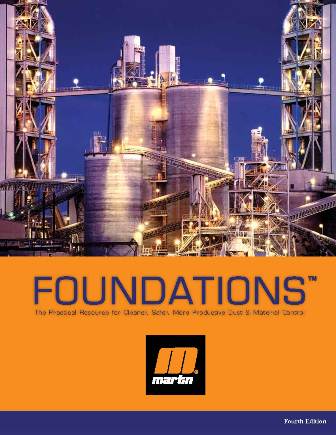 [Neponset, IL] - Martin Engineering, the leading international supplier of systems and services to improve the handling of bulk materials, has released the fourth edition of its Foundations™ Book, its seminal work on improving belt conveyors by controlling fugitive material.

Subtitled "The Practical Resource for Total Dust and Material Control," the new edition of the Foundations™ Book is a 576-page hard cover volume that provides information of value to industries where the efficient handling of bulk materials is a key to productivity and profitability. The book provides information of value for personnel at all levels from plant managers, plant and conveyor engineers, safety and maintenance managers and operation personnel.

The Fourth Edition of Foundations™ has been published initially in English, with plans to offer additional languages.

"The new fourth edition of Foundations™ is the largest volume, and makes the greatest strides in offering solutions to real problems in the conveying of bulk materials," says Todd Swinderman, one of the lead authors of the book and Chief Technology Officer and Board Member for Martin Engineering. "We have placed increase emphasis on safety, on dust control, on the human factor in control of fugitive material, and on the payback for improvement in bulk material handling systems."

The new edition was written by a team of Martin Engineering subject matter experts, headed by Swinderman, Larry Goldbeck, Mark Strebel, Daniel Marshall and Andy Marti. The authors drew on the expertise of more than 30 other Martin Engineering professionals around the world with expertise in areas including dust management, belt cleaning, bulk material science, safety, conveyor engineering and maintenance.

Martin Engineering published the first edition of the Foundations™ book in 1991, followed by Foundations™ Two in 1997, and Foundations™ Three in 2002. For more information or to request a copy of the fourth edition of Martin Engineering's Foundations™, visit the company website at www.martin-eng.com, or email at foundations@martin-eng.com.



Call Us Today
800-544-2947