Martin Introduces Updated Inspection Doors
Published: June 14th 2012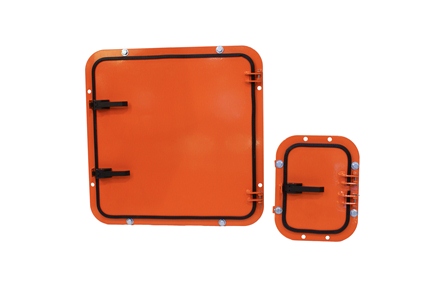 [Neponset, IL]— To improve conveyor maintenance, Martin Engineering has introduced an updated, low-profile version of its industry-standard inspection and access door. Installed to allow inspection and maintenance access inside belt conveyor transfer chutes and other enclosures, the improved Martin® Inspection Door features a low profile that minimizes dust accumulation on door and frame while providing a dust-tight seal.

The slim new Martin® Inspection Door allows safe, secure inspection of critical areas without the need for specialized tools. The new door offers the option of an integral yet removable steel screen to protect personnel from being struck by material cast out of the enclosure when the door is open.

The top of the handle of the new door stands less than 2 inches (50 mm) above the wall, providing minimal area where material can accumulate.

The new Martin® Inspection Door is available in five standard sizes: 9 x 12, 12 x 14, 12 x 18, 18 x 24, and 24 x 24 inches (229 x 305, 305 x 356, 305 x 457, 457 x 610, and 610 x 610 mm). Available in painted mild steel or 304 stainless steel, the door is installed by bolting or welding its frame to the wall of the structure. A lockable latch is available.
Call Us Today
800-544-2947