Martin Introduces QC1™ Cleaner HD with Metal Tipped Blade
Published: June 15th 2012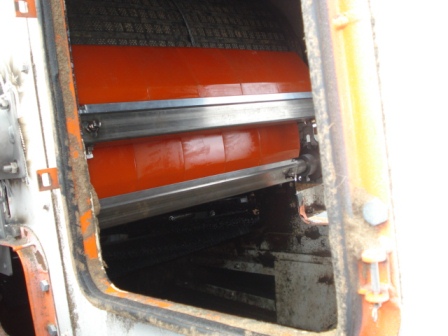 [Neponset, IL] - A new, high-quality cleaning blade for use on vulcanized conveyor belts features a special polyurethane blend and tungsten carbide tip to deliver service life 2-3 times longer than conventional urethane blades. Designed to provide excellent cleaning performance immediately, avoiding any break-in period, the Martin® QC1™ Cleaner HD with a metal tip maintains consistent tension without frequent adjustment, requiring re-tensioning just twice a year in most applications.

The new primary cleaner was developed specifically for vulcanized belts with no mechanical splices and can be used at belt speeds up to 900 feet per minute (4.6 meters per second). The heavy-duty blade is well suited for wet, sticky material applications and there is no limitation to the type of material on which it can be used.

Customers will find a familiar mounting design on the new product, with the same mounting dimensions and tensioning pressures as the already popular QC1™ Cleaner HD. Utilizing both spring and twist tensioners, the QC1™ Cleaner HD with a metal tip fits both 1 and 3 piece mainframes.

The Martin® QC1™ family of belt cleaners combines effective carry-back removal with "quick-change" one-pin replacement of the long-lasting, one-piece blade. To introduce product back into the product flow, the QC1™ Cleaner HD with a metal tip is installed on the face of the head pulley. On a dual cleaner system, the new primary cleaner is installed immediately in front of the secondary cleaner. For applications involving enclosed pulley chute work, the company recommends that one of its steel inspection doors be installed.

Martin Engineering is also an industry leader in the development and manufacture of high-performance urethanes for specialized belt cleaning applications. These color-coded urethanes can be supplied in blades for any of the company's primary cleaners, as well as primary cleaner designs from other manufacturers.



Call Us Today
800-544-2947