QC1™ Cleaner PD Is Newest Addition to Line of Quick Change Belt Cleaners
Published: June 15th 2012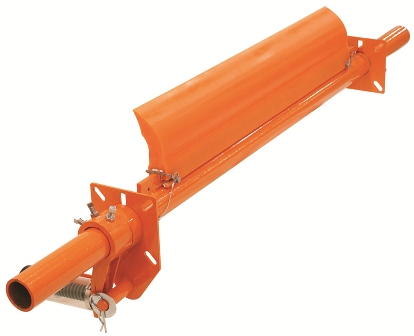 [Neponset, IL] - Martin Engineering's QC1™ Cleaner PD improves cleaning performance and extends life at an "easy on the budget" price.

The latest addition to the company's line of "Quick Change" belt cleaners, the Martin® QC1™ Cleaner PD provides maximum performance and durability across a wide range of applications, all at competitive prices. The new cleaner features a more-rugged steel mainframe, a low-maintenance spring tensioner and a high-volume urethane blade that extends life while maintaining cleaning performance.

The Martin® QC1™ Cleaner PD uses a one-piece urethane blade featuring Martin Engineering's patented Constant Angle Radial Pressure (CARP) design for consistent cleaning across all stages of blade life. The blade features 20% more urethane than competitor blades, yielding a longer life in even the most challenging applications.

To stand up to large pulleys, large lumps and high belt speeds, the new cleaner uses a large, one-piece mainframe fabricated from 2.875 OD (73 mm) Schedule 80 steel pipe. The blade is mounted on a steel rib that allows "one-pin" blade replacement to minimize maintenance labor and downtime.

The cleaner is supplied with a rugged spring tensioner that provides consistent blade-to-belt pressure with minimal need for adjustment. When service is required, re-tensioning the Martin® QC1™ Cleaner PD is a simple, easy operation.

The QC1™ Cleaner PD is suited for applications on belts from 18 to 72 inches (~450 to 1800 mm)-wide, operating at speeds up to 900 fpm (4.6 m/sec). Blades are available to match the width of the conveyed material, with Belt Width less 8 inches (Belt Width less 200 mm) standard. Blades are available in Martin Engineering's color-coded high performance urethanes to suit the application.


Call Us Today
800-544-2947