Martin Introduces Patent-Pending Removable Nozzle
Published: June 15th 2012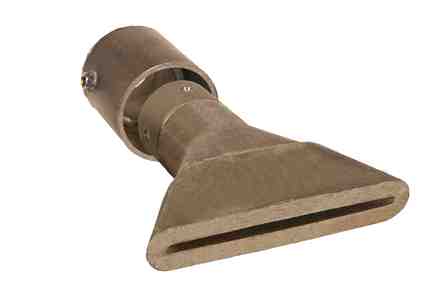 [Neponset, IL] - Martin Engineering, the world leader in air cannon systems, has introduced a patent-pending Removable Nozzle for use with air cannon systems in high-temperature applications such as cement plant preheater towers.

The new Martin® Removable Nozzle will reduce downtime during refractory replacement by eliminating the need to dismount the air cannon from outside the vessel to change the nozzle on the inside. In addition, the new nozzle will eliminate the cost of labor to remove worn-out nozzles and reinstall new conventional nozzles.

The new Martin® Removable Nozzle is a two-part assembly, consisting of an outer collar and an inner fan-type nozzle. The collar is permanently mounted to the outside of the vessel; the replaceable fan nozzle mates to the collar from the inside of the vessel.

Once the outer collar is in place on the vessel wall, a new fan nozzle is simple to install every time the refractory lining of the preheater towers is replaced. With the new Martin® Removable Nozzle's unique interlocking system, the new discharge nozzle is positively-positioned to make certain the air cannon discharge is directed properly to provide the material flow benefit the air cannon system was installed to provide.
Martin Engineering's new Removable Nozzle can be used with four-inch (100 mm) Martin® Air Cannons as well as most competitor air cannon systems.
Call Us Today
800-544-2947