Martin Introduces New Line of Truck Vibrators
Published: June 15th 2012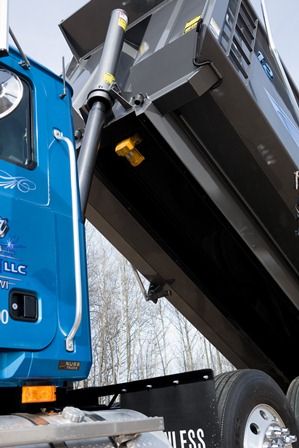 [NEPONSET, IL] – Martin Engineering, the world leader in bulk materials handling, has introduced a new line of truck vibrators. Martin's Cougar® truck vibrators help drivers ensure complete emptying of bulk materials, reducing the need for personnel to enter dump beds for manual cleanout. "Minimizing the need for people to climb into or out of a truck bed, helps to avoid the potential for injuries," said David Ruggio, Product Specialist. "Effective vibration technology can be a huge asset in reducing workman's compensation incidents," he added.
Truck vibrators also increase productivity by helping to eliminate carry-back, giving drivers more payloads per cycle and fewer cycles per job. The result is reduced fuel costs, labor expenses and vehicle wear. A properly-placed and installed vibrator also saves cleanout time and helps to more evenly distribute material when spreading, in addition to savings from more complete truck emptying. Truck vibrators also help prevent unnecessary vehicle damage that can result from attempts to fully evacuate the material. By avoiding the sudden stops and starts commonly used to help break loose a stubborn load, vibration can reduce wear on clutches, brakes and transmissions. It also reduces the opportunity for damage to tailgates and truck beds from equipment used to remove residual material.

The entire line of Cougar® 12V and 24V vibrators from Martin Engineering is built with shielded, oversized, permanently-lubricated ball bearings to deliver exceptional service life. All models are sealed against dirt, dust and water intrusion for reliability in extreme service conditions. The small size and light weight of the electric motors contribute to easy, low-cost installation and efficient operation.

Three of the models are heavy duty electric units, such as the DC-3200, a powerful design that's well suited to dump trucks with a capacity of 10-15 yards, live-bottom tandem dump trucks that carry 15-30 yards, as well as large spreaders and vacuum trucks. It delivers 3,200 pounds of force, while drawing just 85 amps from 12V model and 62 amps from the 24V version. Martin also features mid-sized designs for sweeper trucks, industrial vacuums and concrete pumping trucks.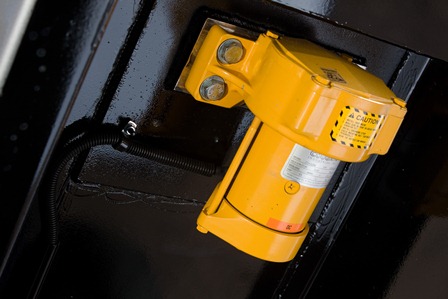 The NHD-110 is a variable-speed hydraulic vibrator. Capable of 2,800 pounds of force, the motor is designed for minimal power consumption and low maintenance. Developed to create more force per size/weight, it's rated for continuous duty operation.

The DC-80, a compact unit well suited for tailgate spreaders and pull-behind units, as well as mixer trucks. Available in a 12V version only, the DC-80 delivers 80 pounds of force, while pulling just 5 amps. All truck vibrators are available with a complete installation kit.

With its company history founded on vibration technologies, Martin Engineering has a long history of producing high quality, innovative products that have consistently and effectively made bulk material handling cleaner, safer and more productive. Cougar Vibration has been a leading U.S. manufacturer of high-quality industrial vibrators, providing designs that have earned a reputation for performance and durability after having patented the first truck vibrator in 1964. "As we combine the proven strengths of both organizations, we're creating a team unlike any other in the vibration industry and extending this expertise around the world," states Jim Turner, Vice President of Sales and Marketing at Martin Engineering.
Call Us Today
800-544-2947