New Martin Building in China Opens
Published: October 10th 2012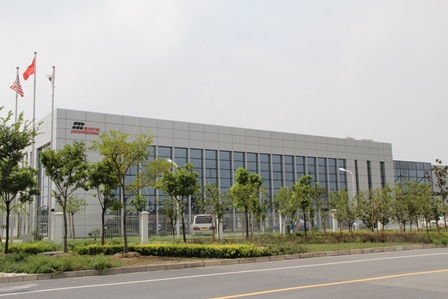 [Neponset, IL] – A worldwide leader in bulk materials handling technology has announced a new full-service business location with manufacturing capabilities in Kunshan, in the Jiangsu Province of China. The new 10,000 square facility includes 8,000 square meters of manufacturing and warehouse operations and 2,000 square meters of office space, making it eight times larger than the company's existing space.

The new facility will allow Martin to greatly expand operations, improving supply and service to the Asian region. The large production area incorporates a full range of manufacturing operations, including laser cutting, metal fabrication, painting, assembly and testing.

"The new facility will allow us to greatly expand operations, improving our supply and service to the Asian region," said China Managing Director Eric Zheng. "And the enhanced manufacturing capabilities will allow us to do an even better job engineering customized solutions for bulk material handlers."

The company primarily serves customers in coal mining, power generation and cement production, but will be looking to expand its activities to other industries, such as ports and steel production. Martin Engineering China began operations in 2005, and quickly outgrew the 1,200 square meter leased space. The new facility will give Martin Engineering China greater capabilities for developing products specifically for the regional market, and could eventually give the company the ability to serve Asian customers outside China.
Zheng said the Chinese market represents a significant opportunity for the company, as increased industrialization and improved infrastructure continue to drive the country's development. "There is a definite need to introduce the latest bulk material handling technology to industries throughout the nation," he stated.


Call Us Today
800-544-2947