Introducing New Line of Electric Screen Vibrators
Published: October 23rd 2012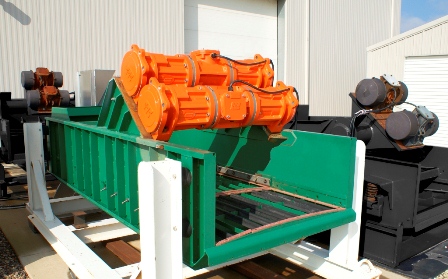 [Neponset, IL] – A world leader in engineered vibration for bulk material handling has introduced a new family of electric screen vibrators for regular duty and hazardous environments. Designed to deliver up to 16,500 pounds of centrifugal force for efficient material separation, Martin® Screen Vibrators are built specifically to withstand the rigors of industrial applications and continuous use, and can run 24/7 as needed.

"With a traditional screen vibrator, the drive functions as the energy source," explained Robert Nogaj, Martin Engineering Vice President of Operations and Product Management. "The energy is transferred via structural bridge to the vibratory box which is isolated by the springs. With our new design, the energy source is an integral part of the structural tube that can be mounted to the sides or top of a vibratory box, making it much easier for designers to engineer and manufacture new kinds of vibratory screens."

The new line of vibrators is designed and engineered in the USA and will be manufactured in most Martin Engineering facilities worldwide to facilitate short lead times and service response. Nogaj said that the designs are likely to find utility in high frequency vibratory screens, dewatering operations and other vibratory equipment for the oil and gas industries, as well as processing of gold and other elements, silica sand, pharmaceuticals and even food applications.

"The new Martin® Screen Vibrator is our own design," Nogaj continued. "We started with several models, some of them direct retrofits for the Derrick® Shaker. But our drives are fully adjustable, so the customer has more flexibility and creativity in how the vibrators are used. We're now in the process of expanding the product line beyond the models engineered to retrofit OEM equipment, including a line of much larger drives," he added. The new vibrators can be used with Variable Frequency Drive (VFD) in ordinary and hazardous atmospheres. Explosion-proof models are ETL/cETL/ATEX/IECex certified for hazardous duty.

The versatile dual-voltage product line can be used anywhere in the world, and the eccentric weights can be adjusted with hand tools to match "High G" or standard performance screens. No adaptors are needed to fit Derrick Vibrating Screens, as these direct-replacement units can be bolted and wired to existing connections. Designed for low maintenance, the only service required is lubrication with a standard grease gun every 2,000 hours, and the long-life bearings produce less noise than OEM oil bath bearings.

Martin® Screen Vibrators provide the power to sort or separate material efficiently, and the sturdy designs have been proven in demanding lab trials and field applications. The units are manufactured to the highest quality standards, effective for use in industries where bulk materials, solids and powders are stored or processed.

Martin Engineering offers a comprehensive selection of vibration products, delivering the highest force to weight ratio of any electric vibrator manufacturer. The firm has more than 70 years of experience in designing and manufacturing vibration products of the highest quality. Backed by a worldwide support network of experts, the company's vibrators are supplied with an industry-best 3-year warranty and an "absolutely no excuses" guarantee. Availability may vary by region.


Call Us Today
800-544-2947