Martin® High Speed Cradle Solves Problems At Arizona Mine
Published: March 18th 2013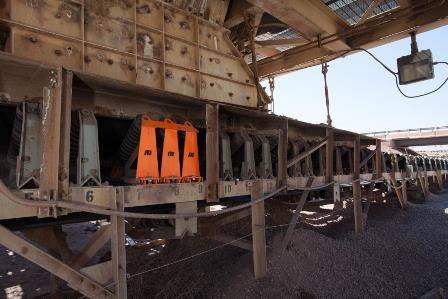 [Neponset, IL] – A new high-speed impact cradle has solved problems with roller and frame damage from heavy conveyor loading conditions at an Arizona mine-for-leach copper mine, where two open pits feed a crushing facility with a capacity of 103,000 metric tons per day. The customer estimates that the new cradles from Martin Engineering paid for themselves in just the first week of service, due to the savings in maintenance and downtime.

The new mine-for-leach process uses bacteria to extract copper from the ore and solvent extraction / electrowinning (SX/EW) to recover copper from the resulting leach liquor. The crushed copper ore is delivered to a single leach pad by a series of overland and portable conveyors. At a transfer point handling ¾" minus agglomerated copper ore with a 20% moisture content, a 72" belt perpendicularly feeds a 60" belt from a straight 12-foot drop.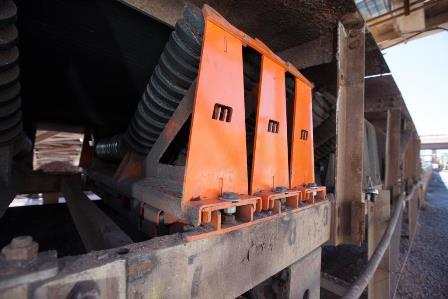 The customer was using standard OEM impact idlers in the load zone; however, with the heavy loading conditions, maintenance personnel were forced to change an average of four to five rollers and one to two complete frames per month due to component failures. "The standard idlers simply could not withstand the heavy load and lengthy drop, costing downtime for repairs as well as the expense of replacement components," observed Martin Engineering Service Technician Doug Brown.

To address the problem, the maintenance supervisor met with Martin Engineering and asked for recommendations. Brown suggested the company's newly-introduced High Speed Impact Cradles and installed the units shortly after. "After 7 weeks of operation, approximately 2.9 million metric tons of material have been conveyed across the load zone, and there have been zero component failures," he said.
Call Us Today
800-544-2947