Martin Introduces New Retractable Nozzle
Published: March 18th 2013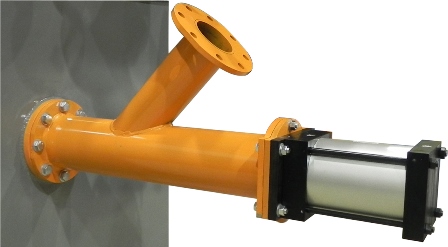 [Neponset, IL] — A global innovator of bulk material flow technologies has introduced a new 360º retractable air cannon nozzle that loosens stubborn build-up in pre-heater towers and large process vessels, extending into the material stream only during the firing cycle to protect the nozzles from extreme temperatures and abrasion. The new product offering from Martin Engineering solves two common industry problems: effectively dislodging accumulations in hard-to-reach areas without shutdown or manual labor, while significantly extending nozzle life. Further, the retractable design can be serviced from outside the vessel, reducing service time and risk of injury.
"Historically, many cement manufacturers have been forced to resort to manual cleaning by using compressed CO2," observed Martin Engineering Global Product Manager Brad Pronschinske. "Compressed CO2 can be an effective cleaning mechanism, but the extremely high pressures can be dangerous, and it can really take a toll on refractory linings. It's also a manual process that can pose safety concerns, both of which are undesirable. Our customers were looking for a more automated approach."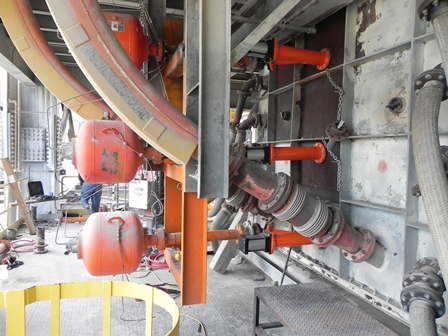 "The new design uses a high-temperature cylinder to extend the nozzle when firing the cannons, pulling it back to the recessed position afterward," Pronschinske explained. The nozzles are cast from a special high-temperature alloy, and a solenoid controls the operation. "We weren't expecting to create a nozzle that would last for years in such an extreme operating environment," he continued. "But we wanted to achieve a lifespan that would allow the plants to service the nozzles only during planned outages. The goal was to prevent the forced shutdowns and avoid manual cleanouts."
When retracted, the nozzle is recessed 2-3 inches into the refractory, avoiding the searing heat and abrasive material flow that had decimated nozzle life in the past. The extension tube has special high-temperature sealing rings, and the structure can be slid out for servicing, without entering the tower or vessel. If the nozzle does get damaged from an upset condition or other reason, the tube can be removed for nozzle replacement, without shutting down the process.
"This technology will be especially valuable for clearing flat vertical walls and hard-to-reach areas," Pronschinske concluded. "It can be used with virtually any air cannon, including multiple-port designs."
Call Us Today
800-544-2947