Martin® Replacement Blades Available In Variety of Shapes, Sizes, And Materials
Published: March 18th 2013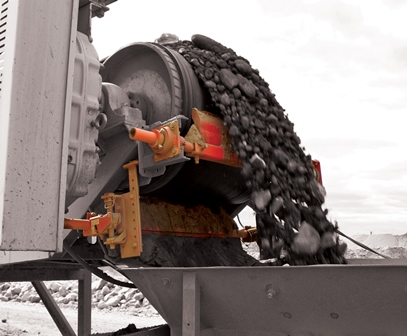 [Neponset, IL] – Conveyor belt cleaner blades from Martin Engineering are available in a wide array of shapes, sizes and materials, designed with the company's patented Constant-Area Radial Pressure (CARP) technology to deliver consistent cleaning throughout all stages of blade life. Unlike most competing designs, the innovative engineered cleaners maintain the same contact area, blade angle and pressure to effectively remove virtually any type of material carryback, even as the blade wears down over time. With 10-20% more urethane on average in each blade than competing blade designs, Martin Replacement Blades are engineered to deliver longer service life and lower cost of ownership.
Martin offers replacement blades for its full line of belt cleaners, as well as retrofit designs for most other manufacturers' mainframes. With fewer blade changes and less frequent maintenance downtime, bulk material handlers can focus manpower on core activities.
"We're one of the few manufacturers that designs and molds its own belt cleaner blades," commented Martin Engineering Senior Product Specialist Dave Mueller. "That gives us very tight control of the processes and ensures that we provide quality products and quick delivery times."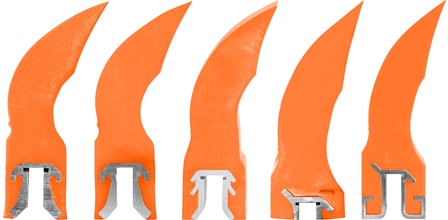 Mueller said that in most cases, standard product orders received before the lunch hour can be shipped the same day, while extra-heavy duty cleaners can typically be manufactured and shipped in less than three days. Since urethanes degrade by oxidation, hydrolysis and a number of other mechanisms, the newer the blade is, the more likely it'll be to deliver the performance for which it was designed. Older blades that sit in stock may have been aging on the shelf for some time before they actually get to the customer.
"The other advantage that comes from engineering and producing our own blades is the ability to develop customized shapes and urethane formulations to suit specific operating conditions," Mueller continued. "So we have heavy-duty models, chemical-resistant blades, high-temperature formulations, low-profile designs, even specialized cleaners for wet, dry or sticky materials," he said.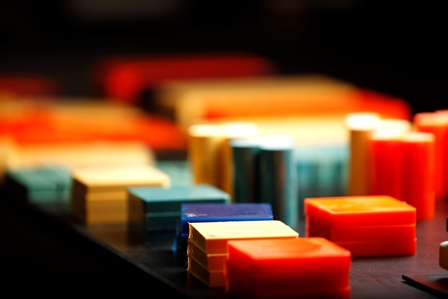 Martin Engineering is the global leader in the development of new, high-performance urethanes for specialized belt cleaner applications. Many of the company's blades are formulated for specific bulk materials or conditions, having started out as a customized solution for an individual customer to help eliminate carryback, reduce spillage and minimize maintenance chores.
Martin Engineering's R&D on new belt cleaner formulations is carried out in the company's 22,600 square foot (2,100 square meter) Center for Innovation (CFI) in Neponset, IL. The CFI incorporates four laboratories to perform sophisticated testing and analysis of applications, systems and components: Polymers, Bulk Materials, Metals and Environmental.
The Polymers laboratory studies the performance of polyurethanes, plastics, rubber and other elastomers, including physical properties such as hardness, modulus, flex, compression, tensile strength and fracture strength. New material formulations are also processed in trial-size batches, and components are tested on production-scale equipment.
Call Us Today
800-544-2947