NALC Saves Time and Money With Martin Products
Published: November 21st 2013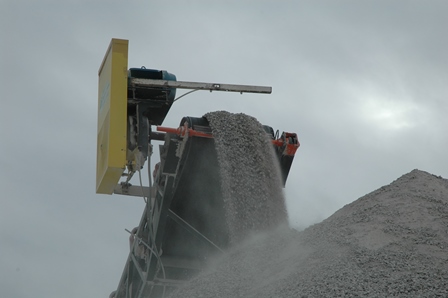 [Cloverdale, IN] - North American Limestone Corporation (NALC) supplies high-quality limestone from their 243 Complex in Cloverdale, IN. The 243 Complex supplies crushed and fine limestone products to a wide range of industries in the Midwest that include animal feed producers, electric power generation, coal mining, industrial manufacturers and various construction segments.
In order to produce such a wide range of gradations, NALC boasts an expansive series of crushers, mills and screens, all of which must be operated and maintained efficiently in order to preserve their position in the competitive market.
At the 243 Complex a significant amount of material was being carried back along the underside of the conveyors. This carryback would accumulate and create mounds of spillage that would pile up in excess amounts causing operational issues. For safety reasons and to increase production, the crew was required to shovel and wash carryback spillage daily meaning costly and time-consuming clean-ups. Thus, worker fatigue increased and productivity decreased, with at least two hours every day being spent cleaning by the quarry's maintenance crew.
According to NALC's Vice President of Operations, Dana Boyd, "carryback and spillage are common problems within our industry. If not addressed, not only does it create safety hazards but, it also creates unnecessary work for the maintenance team when they could be focusing on other priorities."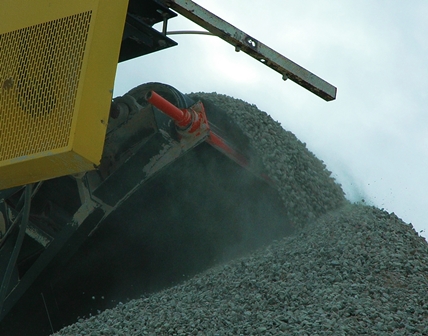 To address the problem, Martin Engineering recommended the Martin® PV primary Cleaner with Twist™ Tensioner for many of the belts throughout the quarry used to move rock to and from the crusher and product through the fine grind operation. These belts run at speeds varying from 100 feet per minute to 400 feet per minute, are two ply to four ply and many utilize mechanical splices. With all of these demands, the Martin® PV cleaners were able to remove the residual material using their aggressive angle of attack for improved cleaning efficiency.
The Martin® PV Cleaner blades feature Martin Engineering's patented Constant Angle Radial Pressure (CARP) design for consistent cleaning throughout all stages of blade life. The specially-engineered curved blade maintains the same contact angle, even as the belt wears, helping to retain cleaning efficiency and allow for residual material fines on the belt to be deposited back into the material flow and not underneath the conveyor.
This belt cleaner and tensioner combination also helped eliminate material buildup on the return rollers, which would get trapped on the return side of the conveyor belt and cause problems. Carryback material deposited under the conveyors had to be shoveled or washed away constantly, increasing labor costs. Since NACL was a high-volume producer, excessive carryback and spillage buildup was adding thousands of dollars in lost production time. Martin Engineering worked closely with NALC to mitigate the hindrance and avoid costly downtime.
NALC found that the Martin® PV cleaner with Twist™ Tensioner, almost completely eliminated the carryback and spillage. The Martin® Twist™ Tensioner supplied consistent pressure to keep the blade against the belt for effective cleaning, regardless of the state of blade wear, with minimal re-tensioning required. While the Martin® PV Cleaner was engineered specifically for the aggregate industry, it has a durable, one-piece blade that contains approximately 20 percent more urethane than comparable primary cleaners, yielding a longer life in challenging service conditions. This aggressive design for quarry and gravel applications is able to remove even wet, sticky sand from belts 18-72 inches (450-1800 mm) wide.

According to the belt maintenance crews, the time and cost savings was an immediate return on the investment. Now that the maintenance crew was spending less time cleaning up, they were spending more time focusing on other tasks. "Our maintenance crews have crucial functions they need to address to keep the plant running," said Boyd. "Not having to worry about carryback and spillage during these times is important."
Call Us Today
800-544-2947