Full Suite of Safety Products Offered By Martin Engineering
Published: June 3rd 2014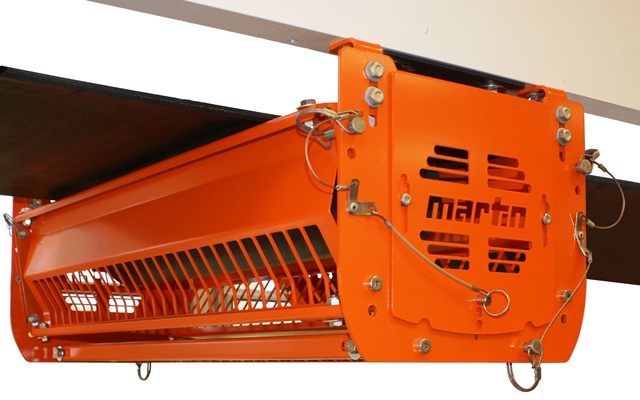 [Neponset, IL] – A global leader in conveyor safety technology offers a suite of products and services to protect workers from fast-moving rollers and belts, helping bulk material handlers maintain safer and more productive operations. The components and training from Martin Engineering can be used alone or together to help prevent accidents and injuries, reducing risk while benefiting productivity.

Designed to prevent workers from being drawn into a moving return roller, the Martin® Return Roller Guard is an economical way to raise safety awareness and reduce injuries. The solid upper section delivers pinch point protection, and the slotted lower area allows visual inspection while preventing contact with the roller.

Installation is straightforward, with brackets included to mount the guard directly to either the side or bottom of the stringer. Quick-release pins allow easy service, with side and bottom panels that swing open for cleaning or maintenance, and removable end plates provide access to roller bearings. The guards are designed to fit all major roll manufacturers' sizes (CEMA C, D & E). Installation is recommended on all return rollers that are less than 7 feet (2.13 meters) from the ground, or in locations where the roller is otherwise within reach of workers.

The Martin® Return Roller Basket is designed to prevent a return roller from falling in the event of a mechanical failure, recommended for rollers that are more than 7 feet (2.13 meters) off the ground and out of reach for any workers. The combination of guards and baskets provides a systematic approach to conveyor guarding that's easy to use and safety compliant.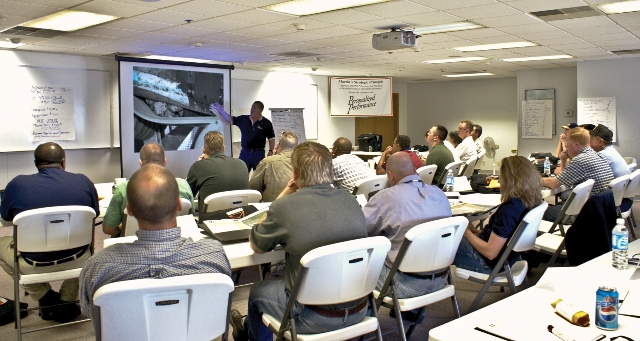 Like the Martin® Return Roller Guard, slotted panels allow easy inspection, while keeping workers protected. Brackets designed to fit all major roll manufacturers' sizes are included to mount the basket directly to either the bottom or side of the stringer. Quick-release pins allow easy access, and side panels swing open from either top or bottom for cleanout or service. Both the Martin® Return Roller Basket and Guard are available in painted steel and two grades of stainless steel.

Martin® Conveyor Guards simplify conveyor guarding to improve plant safety and productivity. The heavy mesh guards allow easy inspection, while keeping moving components and pinch points isolated from workers. The rugged modular design is supported by a supplied angle iron structure, and attachment to the conveyor equipment is not required. Installation is straightforward, with wedge clamps that allow panels to be removed and re-installed quickly.

The guards conform to OSHA 29 CFR 1910.217 when installed with a minimum of 5.5 inches between the guard opening and hazard. Available in a range of sizes from 24" x 24" (610 mm x 610 mm) to 36" x 50" (914 mm x 1270 mm), they feature a universal design that can be used in a variety of combinations to fit almost any application. Systems can be easily expanded or relocated as needed.
Safety Training

Martin Engineering has expanded its Foundations™ Training Program on the design and development of more productive belt conveyors to offer three customizable seminars. Training is available to suit individuals with varied levels of experience and responsibility from new hire to senior engineer. Attendees attain a better understanding of conveyor safety and performance, helping to justify upgrade investments and increase profitability.

The Martin® Foundations™ Workshop series has been teaching bulk-materials handling personnel how to operate and maintain clean and safe belt conveyors for nearly twenty years. All programs offer the opportunity for customization/localization to feature specific images, conditions and problems from the customer's site. Programs are flexible as far as location and length. The presenters are highly trained and have many years of hands-on experience around conveyor systems. These industry experts keep the programs lively and interesting, while giving attendees a new outlook on conveyor operations.
Call Us Today
800-544-2947