GreensGroomer Uses Cougar® Truck Vibrators on Turf Sweepers
Published: December 3rd 2014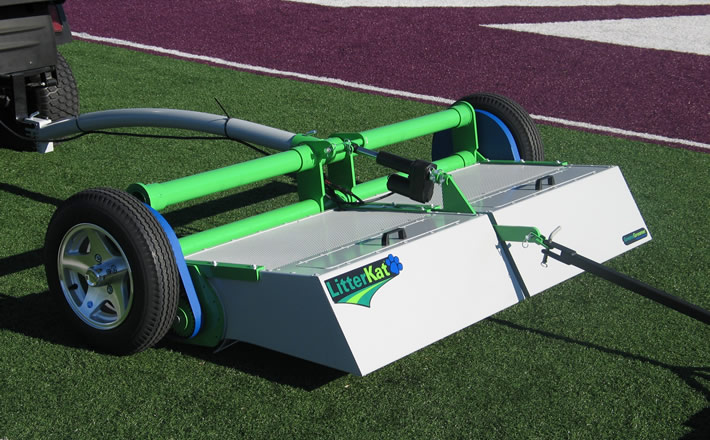 [Indianapolis, IN] – An innovative manufacturer of synthetic turf grooming equipment has partnered with a pioneer of industrial vibration to improve reliability and reduce maintenance on its turf sweepers. In a move to extend the company's mission of engineering the most functional and durable designs in the turf care industry, GreensGroomer WorldWide specifies a matching pair of Cougar® DC-80 12V Vibrators from Martin Engineering on every LitterKat® Synthetic Turf Sweeper.

"We're always looking for ways to improve the longevity of our equipment and minimize warranty incidents," explained Production Manager Tyler Montgomery. "We made the switch to the DC-80s in 2009, and after five years of field service, we've had very few issues. It has demonstrated the reliability and durability we were looking for," he said.
A New Generation of Artificial Turf

Since 1998, GreensGroomer has been a top provider of cleaning equipment for "rubber infill turf," the surface of choice for sports stadiums and playing fields around the world. In fact, to date the company and its dealers in the U.S. and abroad have placed equipment in more than 9,000 facilities worldwide. Infill turf is a generation removed from previous carpet-like designs, which had short plastic bristles glued or sewn into a mat and set on a rubber pad. Modern rubber infill turf has soft silicone fibers and stiffer silicone coils, which are adhered to a thick pad of recycled material. Rubber granules loosely spread in between the fibers act as artificial dirt and provide an extra layer of protection for players.

Unwanted materials inevitably end up on the field, such as wrappers, grip tape, shoe spikes, leaves, etc.," Montgomery continued. "The old style turf required an industrial vacuum to clean it. But the rubber granules in today's surfaces would be easily picked up with a vacuum, and redistribution would be complicated. An effective turf grooming system solves that problem."

The LitterKat is constructed entirely of steel and built only in America, with two 31"L x 35.5"W x 9"D perforated and removable collection baskets set on a sturdy carriage base with soft rubber tires. Attached to a tow cart or vehicle and pulled at 6-8mph, the 447-lb unit features two independent ground driven brushes that gather debris from the field, including some rubber granules.

Each basket is fitted with a Cougar® DC-80 12V Vibrator, powerful enough to shake the granules through the perforated base and spread them evenly back onto the grooming plane. "The turf sweeper is also equipped with a powerful 6-foot wide tow-behind magnet that pulls unwanted ferrous material from deep within the infill," Montgomery added.

Synthetic turf, like natural grass, is prone to treading and can be affected by microorganisms. However – unlike natural grass – these conditions can be controlled with other implements. A turf groomer with a tine rake attachment combs synthetic fibers and raises flattened silicone coils to their original position, so the turf is returned to its plush, natural-feeling state. GreensGroomer also supplies a device to disinfect the turf, which destroys harmful microorganisms by exposing the surface to powerful germicidal ultraviolet (UVC) rays.
Engineered Vibration

Originally designed to loosen difficult materials from dump trucks and dry bulk haulers, the Cougar® DC-80 12V Vibrator weighs only 5 lbs, but uses permanently lubricated oversized ball bearings to deliver 80 lbs of force at 4,000 cycles per minute. The engineered vibration evenly redistributes the rubber granules, while keeping the LitterKat stable enough to remain on its grooming line and not detach from the tow hitch. The vibrator housing is tightly sealed to safeguard against dirt, dust and water, minimizing abrasive wear and lubricant contamination for exceptional service life.

Martin Engineering offers a comprehensive selection of vibration products, delivering the highest force to weight ratio of any electric vibrator manufacturer. The firm has more than 70 years of experience in designing and manufacturing vibration products, which are supplied with an industry-best 3-year warranty and an absolutely no excuses guarantee. Availability may vary by region.
Call Us Today
800-544-2947