Martin Offers Employee Wellness Program
Published: January 22nd 2015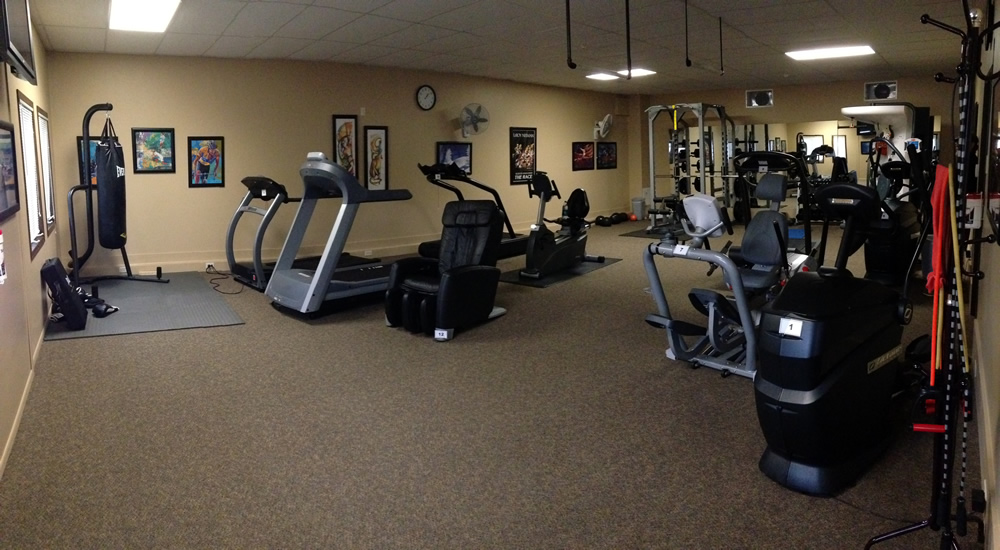 [Neponset, IL USA] – A global innovator of bulk material handling equipment has announced a pioneering step in the industry's health care by opening a free on-site medical clinic for employees and their families. Martin Engineering built two fully equipped examination rooms and partnered with a local hospital to staff them with an experienced full-time nurse practitioner and a trained medical assistant. Supported by a robust wellness program and company fitness facility, employees are able to enjoy a holistic corporate healthcare experience that is unprecedented in the bulk handling sector.
"Our choice to become a self-insured company allows us to better serve the needs of our employees and their families," said Edwin H. Peterson, Chairman of the Board of Martin Engineering. "Opening the in-house healthcare clinic was just a natural extension of that idea."
The medical clinic is available to all 250 employees at the company's Neponset headquarters, as well as their family members. It is open 8 a.m. to 2 p.m. three days per week and one day from noon to 7 p.m. Just like any health facility, patients make an appointment and are examined by a medical professional, but unlike other providers, no co-pay or fee is assessed, regardless of the procedure or test performed.
Standard exams and tests are carried out in a private and discrete manner. To be compliant with the Health Insurance Portability and Accountability Act (HIPAA), the onsite nursing staff has secure access to the partner hospital data center, updating patient records directly into the system. Simple information, such as biometric screening for access to wellness program rewards and reduced premiums, are revealed to the company upon employee consent.
The clinic's nurse practitioner is able to issue and update prescriptions. Equipped with 80 prescription drugs, the pharmacy is stocked according to the needs of the patients it serves and medication is dispensed at no charge. The medical staff is also able to respond to emergencies on the Neponset campus and either treat the injury in the clinic or stabilize the patient for transfer to the partner hospital nearest to the Martin Engineering campus.
"The medical team can also provide employees with information regarding any workers compensation claims," said Janice Verbeke, Global Director of Human Resources for Martin Engineering. "They can even help injured employees with personalized health counseling during rehabilitation."
Wellness

There are a growing number of large- and medium-sized firms taking the step to self-insure, allowing them to better tailor health benefits to the company culture. It also incentivizes companies to promote healthy habits through exercise and formal wellness programs, which include spouses and children.
At the center of the Martin Engineering program, which was started in 2009, is a biometric exam. The in-house clinical staff administers the screening, testing for blood pressure, glucose levels, body mass index (BMI), LDL/Cholesterol and nicotine. This informs employees of potential issues and gives a benchmark for rewards given for adjusting those numbers. Having healthy levels of these tests and no nicotine makes employees eligible for special insurance premiums. Smokers are given tools and incentives such as cessation programs and lower premiums for quitting.
A committee made up of nine or ten employees and HR staff set the goals and activities of the wellness program, as well as issuing a regular wellness-based newsletter. Monthly challenges are organized, such as the "Biggest Loser," walk/run programs, healthy recipe cook-off, 21 day exercise challenge and "lunch and learns" where employees are told about new challenges, updated health news and routines to maintain a healthy lifestyle.

The program also features a specially designated Internet portal, allowing employees to track their progress and communicate successes with peers. Points are awarded for achievements and can be used to buy clothing and fitness accessories in the online store. Moreover, the company pays fees for two events per year ? up to $25.00 per event ? if employees want to participate in a 5k or 10k run.
"We have a surprisingly high participation rate, far more than we expected by this point," Verbeke said. "A big part of the success is the active support by executives and management, sweating right alongside the employees during challenges. Also, our fitness center really makes it convenient for participants to fulfill their fitness and weight loss goals year-round."
Fitness

In the fully equipped gym, employees can use a variety of cardio equipment, fitness machines and free weights. There is also a permanent on-staff physical trainer who meets with employees by appointment, while maintaining a safe workout environment. The gym is equipped with the KOKO fitness system, which recommends exercises and monitors progress, so that employees can work independently toward their goals. In a separate space near the gym, employees are encouraged to attend Zumba classes, which incorporate fitness moves with dance moves to popular music.
"All of these programs, resources and activities not only promote healthy habits, but also engage employees in a culture of health," Peterson said. "By providing a variety of choices at different activity levels that appeal to many interests, each person is able to pinpoint a comfort zone and set reasonable goals. The reward goes beyond lower premiums, but feeling better both emotionally and physically, as well as preventing heart and diet-related illnesses. At the end of the day, a healthy workforce is key to a healthy company."
Peterson added that the health clinic and wellness program join a number of other Martin Engineering employee benefits, including the on-site cafeteria, bonus program and 401k options. "We believe these amenities are unique among firms of our size," he concluded. They're more often found in Fortune 500 companies, but we feel that the benefits outweigh the costs."
Call Us Today
800-544-2947