New Vibration Work Cell Introduced
Published: May 20th 2015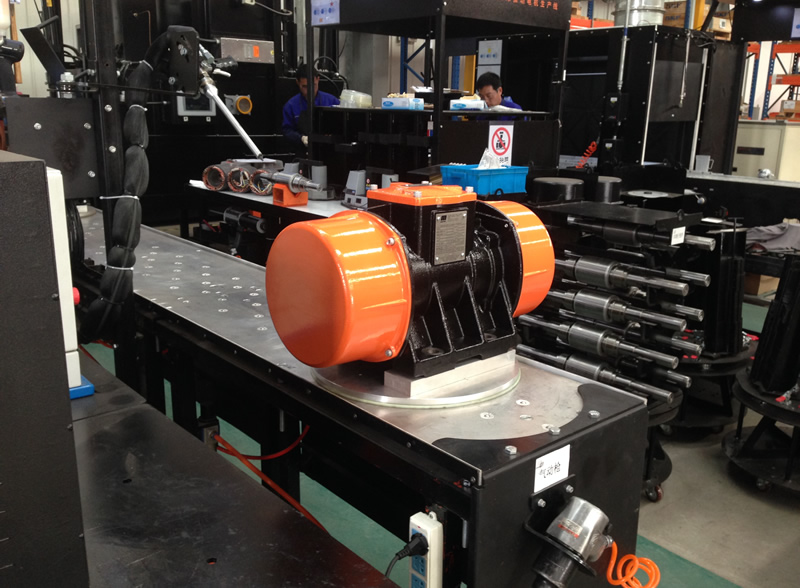 [Neponset, IL USA] – A global leader in bulk material handling technology has announced the design of a new manufacturing process to build its industrial vibrators, bringing a higher level of quality and consistency through a classic lean manufacturing operation. With two cells now completed and fully operational in the US and Asia, Martin Engineering has confirmed that the process delivers repeatable close-tolerance results for outstanding product uniformity, while cutting manufacturing time and reducing the physical demands on employees. The company plans to build its next two manufacturing lines in South America and Africa in 2015 to serve those continents, eventually creating a global manufacturing network to serve customers around the world.

"Our goal is to avoid a business model of centralized manufacturing and then trying to sell products across the globe," observed VP of Operations Robert Nogaj. "That's what our competitors do, and the lead times can be prohibitive, often measured in months. This new process gives us the capability to centralize the innovation and design capabilities for our vibrators in the US and manufacture them to the highest quality control standards at the local level."

Nogaj said that one of the key advantages to OEM customers such as screening and separation equipment manufacturers will be the ability to obtain custom designs, maximizing value without the extended lead times currently required for non-standard designs. "If OEMs have a unique need for a drive that hasn't been engineered before, or if there's a machine in development that they could not find a drive for, now there's a resource for developing those high-value designs."

Director of Corporate Projects in Asia Chris Schmelzer agreed. "This manufacturing approach is the result of designing a production process around the products, rather than the other way around," he commented. "We examined the products we wanted to make, then designed a proprietary process to build our vibrators in a precise, efficient and repeatable way. It not only ensures exceptional quality, but also makes us very agile and responsive to customer needs, rather than just making stock products and hoping to sell them."
Automating the Process

Part of the company's success in designing a process that has significantly reduced build times has come from the use of new technologies in automation and handling. By engineering a compact, highly-advanced production line, the labor content has also been greatly reduced, and several operations can now be performed concurrently. New lifting methods facilitate the movement of heavy cases without the need for cranes or conventional mechanical devices, reducing strain on employees.

"The whole process is much faster and extremely repeatable," Nogaj continued. "We're relying far less on human judgments, using special fixtures and tooling, as well as automated steps for mixing and curing epoxy, packing bearing grease and performing other key other functions."

Quality control upgrades and test procedures were also an integral part of the overhaul. "Run testing and electrical confirmation are now done in-line, as part of the manufacturing process," Nogaj added. "And all the data is stored in the computer, allowing us to trace every unit back to its individual components."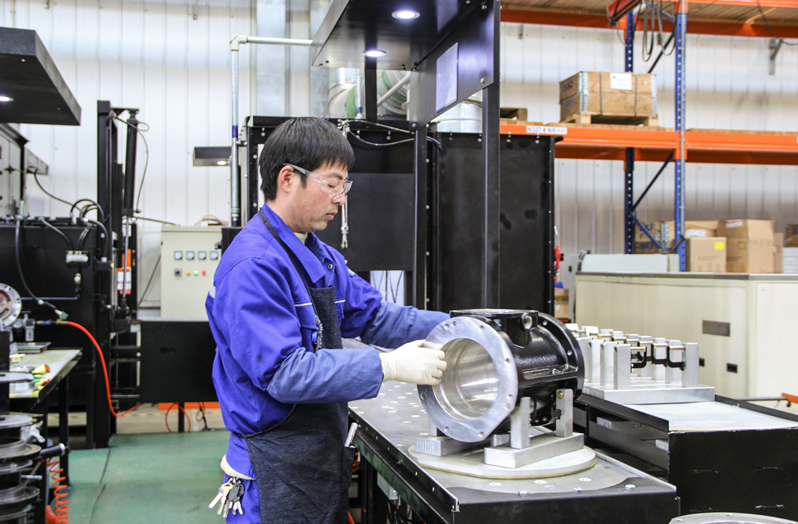 When the equipment to automate certain operations didn't exist yet, engineers set about building it. An example is the fixture for stator insertion into the case, which requires high precision for durability in harsh operating environments. "Most manufacturers use a simple press for inserting the stator," said Nogaj. "But that can lead to variations from one unit to the next. Instead, we designed a photo-controlled process to position the stator exactly and press it into place, without the operator touching it."
Competing in a Global Market

Schmelzer said that part of the motivation for engineering the work cells was to give customers the highest price to value ratio possible. "In China, for example, we are manufacturing Chinese products for the Chinese market, made by local people to the most stringent of Western standards. We had to be super-efficient to be competitive, but we weren't about to sacrifice product quality in doing so. From the beginning, the process was intended to help us maintain and even raise quality levels, at the same time we reduced assembly requirements and lead times. It was a tall order, but we've achieved that," he acknowledged.

"We felt that if we have lean, agile manufacturing and strong supply chains, we can be much more nimble and responsive to customer requests," Schmelzer continued. "Instead of producing a catalog of vibrator offerings, we prefer to work with OEMs and custom-design the vibration they need, helping them improve their existing products and bring new designs to market more quickly."

While most vibrator suppliers prefer to run a high-volume, low-mix business model, the new Martin Engineering process allows the company to deliver high-mix, low-volume production, without sacrificing manufacturing speed or quality. As a result, the company eliminates over-production, while precisely satisfying customer demand and significantly reducing typical lead times. An additional benefit is the standardization of training for building the firm's products, since an operator trained in any of the new manufacturing facilities can be proficient in any other Martin Engineering location, employing the same technology. "In itself, that's a kind of built-in quality assurance," Nogaj concluded.
Call Us Today
800-544-2947