Martin Engineering Introduces The Boot-Lift® Railcar Connector
Published: October 23rd 2015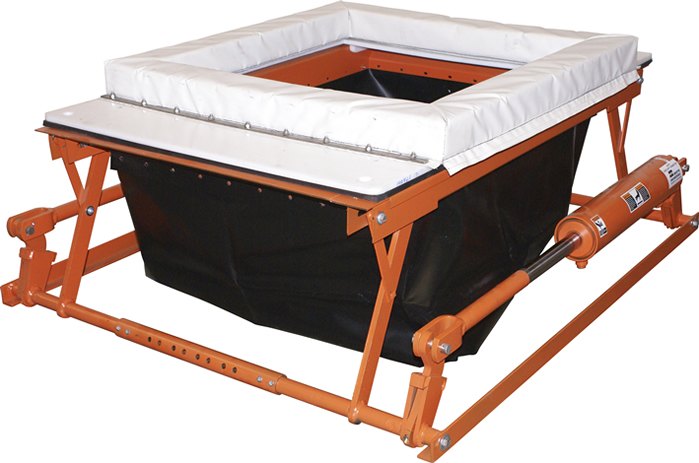 [Neponset, IL] – The Boot-Lift® Railcar Connector from Martin Engineering improves the speed and safety of connecting a hopper car to under-track conveying systems, preventing the loss of material to wind or contamination without workers crawling under the car. Installed on the track flanges and powered by an air-over-hydraulic design, the boot rises to the unloading gates for clean, efficient unloading of bottom-discharge hopper cars. Sponge seals fit securely to the gates for a clean transfer of material to the conveying system.

"Unloading bulk materials from railcars can be a difficult, dirty job," observed Martin Engineering VP of Operations Robert Nogaj. "It can be a slow, labor-intensive and sometimes unsafe process. In many facilities, unloading requires workers to crawl beneath the cars to connect the outlet to the under-track system. The Boot-Lift® Railcar Connector eliminates that potential risk, and it can be easily operated from a remote control console."

Models are available to suit virtually any bottom-discharge railcar design, including single- or double-opening, round-opening and GATX. Adaptor sheets and transition funnels are available for interchangeability, allowing operators to use the same connector for any number of different cars. Users can convert various car models from double- to single-pocket unloading or single to double by simply removing the standard sponge seals and replacing with the appropriate funnel and adaptor sheet.

The boot automatically connects with the railcar and rises as the load empties out, maintaining an effective seal throughout the process. The units require just 1 CFM of air supply at 90 PSI (28 LPM at 6.2 bar).

Martin Engineering offers two different types of aligners to simplify car positioning. The Boot-Lift® Manual Aligner delivers up to six inches (152 mm) of total adjustment, three inches (76 mm) in each direction along the track. The pneumatic model provides up to eight inches (203 mm) of total adjustment, four inches (101.5 mm) in either direction. Remote control requires just 10 PSI (0.7 bar) of compressed air.

The standard boot material is black vinyl-covered cloth. Other options are available, including polyethylene-lined; white synthetic rubber-coated cloth; food-grade polyethylene-lined polypropylene; and flame retardant coated polyester.

Martin Engineering supplies a number of related accessories, including funnel covers and rugged vinyl-covered cloth cylinder covers to help prevent damage and contamination of air cylinders from material build-up or difficult service environments. Replacement boots, sponge seals and other components are also available.



Call Us Today
800-544-2947