Coffeyville Resources Fertilizer Plant eliminates belt sag, improves belt cleaning, and effectively seals the belt.
Problem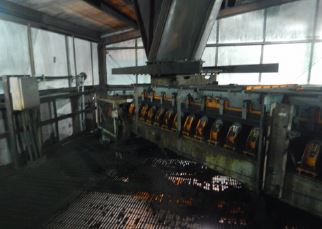 The Coffeyville Resources Nitrogen Fertilizer plant in Kansas was experiencing belt tracking, spillage, and dust problems on two conveyors transporting petroleum coke (petcoke). One of the primary issues was material containment, including fugitive material that escaped from conveyors 19A and 19B, each 300 feet long with a 24-inch wide belt. "We were seeing waist-deep piles accumulating each day, which required an average of about 90 man-hours per week to safely clean," explained the company's Operations Technical Superintendent. In addition, the facility was forced to invest another 16 hours of equipment service time each week.
Solution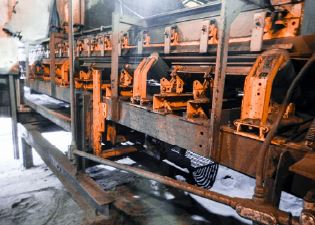 Martin Engineering proposed upgrading both transfer points to eliminate belt sag, provide effective sealing and improve belt cleaning. Technicians first installed three Martin® Impact Cradles, located under the belt in the loading zones. After the impact zone, a series of 16 Martin® Slider Cradles were installed on each conveyor to stabilize the belt line. The upgrade also included 90 feet of modular chute wall and 184 feet of ApronSeal™ Skirting. The belt tracking issue was addressed with a Martin® Tracker™ system to deliver immediate, precise adjustment. A 2-stage belt cleaning system was then added, including a QC1 Cleaner HD primary cleaner and Martin® SQC2S™ secondary cleaner.
Result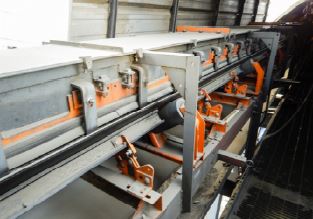 Plant officials are extremely pleased with the outcome, which has drastically reduced the amount of dust, spillage, and unproductive labor time. The Superintendent estimated that the total maintenance time to manage fugitive material on both conveyors is now down to about eight hours per week, with belts and other components no longer showing signs of premature wear. In addition to the estimated $14,000 USD per month labor savings, longer service life from belts and components are expected to further increase the benefit. "We're very happy with the results," he said. "What used to be a huge maintenance task is now just occasional sweeping."

Call Us Today
800-544-2947