Silo Cleaning Salvages 40 Tons of Cementitious Material
Problem
Stark Excavating is one of the Midwest's busiest construction firms and currently operates four offices, three concrete batch plants and three sand/gravel quarries in Central Illinois. To help feed its sizable project flow, the firm's Commercial Acres Ready-Mix Plant in Normal produces an average of 60,000 cubic yards of concrete each year.
Over time, material dust in the three pneumatically-loaded silos began building up, first on walls and ridges and eventually clinging to all the interior surfaces. The severity of the problem became apparent to system operators when they noticed the walls of the silos actually starting to bulge outward. The need for repairs was clear and immediate, but the material build-up presented a serious obstacle.
Solution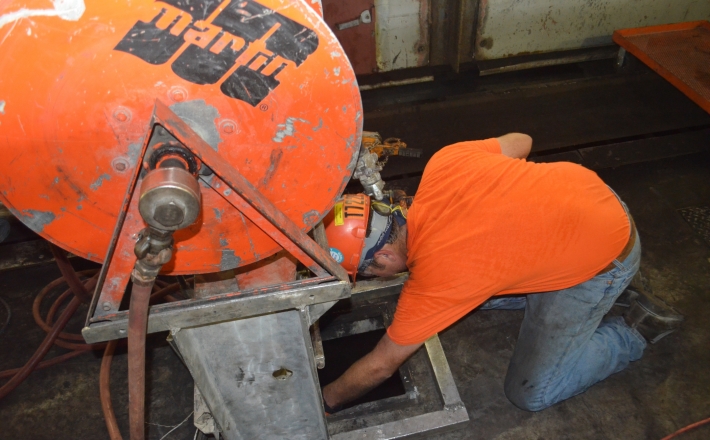 Already familiar with Martin from using its belt cleaners and other components, Stark scheduled a site visit immediately. MartinPLUS® Silo Cleaning Services use several technologies that eliminate the need to send a man inside a storage vessel and risk potential injury. The technicians were able to secure a heavy duty whip through an access hatch at the top of each vessel.
The technicians used remote control from outside the bin to safely guide the cleaning head. The crew lowered the whip through an opening in the blockage, starting at the bottom and undercutting the material as they worked their way up. This technique allows material to be recaptured and returned to the material stream. Stark was able to salvage the entire 40 tons of cementitious material removed from the silo.
Results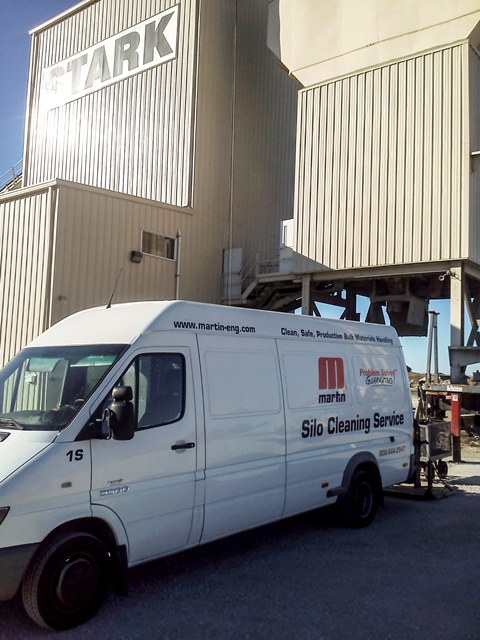 The entire process was completed in just ten working hours, with all three storage vessels cleaned out and ready to schedule repairs after just a one-day outage for the service. Exit feedback from Stark clearly indicated the company's satisfaction with MartinPLUS® Silo Services. The report showed work was completed in a safe and timely manner, precisely on the predicted schedule.

We've solved your problem somewhere before!
While your problem seems unique and frustrating, with 70+ years of solving similar problems around the world, and with the most experienced and educated people on our teams, we can assure you that we've "Been There, Done That." At least close enough to know what needs to be done next and adjust for your situation.
Put Us To The Test For Free! Let Us Give You a Solution.
Call Us Today
800-544-2947